Prime Term Insurance Selection Tool
Available for subscribers only
A tool to find the plan you need. Incorporates a range of metrics, in addition to premium, that are central to choosing a good term insurance plan. Interactive tool that helps you narrow down the best plans using compiled data that you won't find elsewhere. Updated every quarter.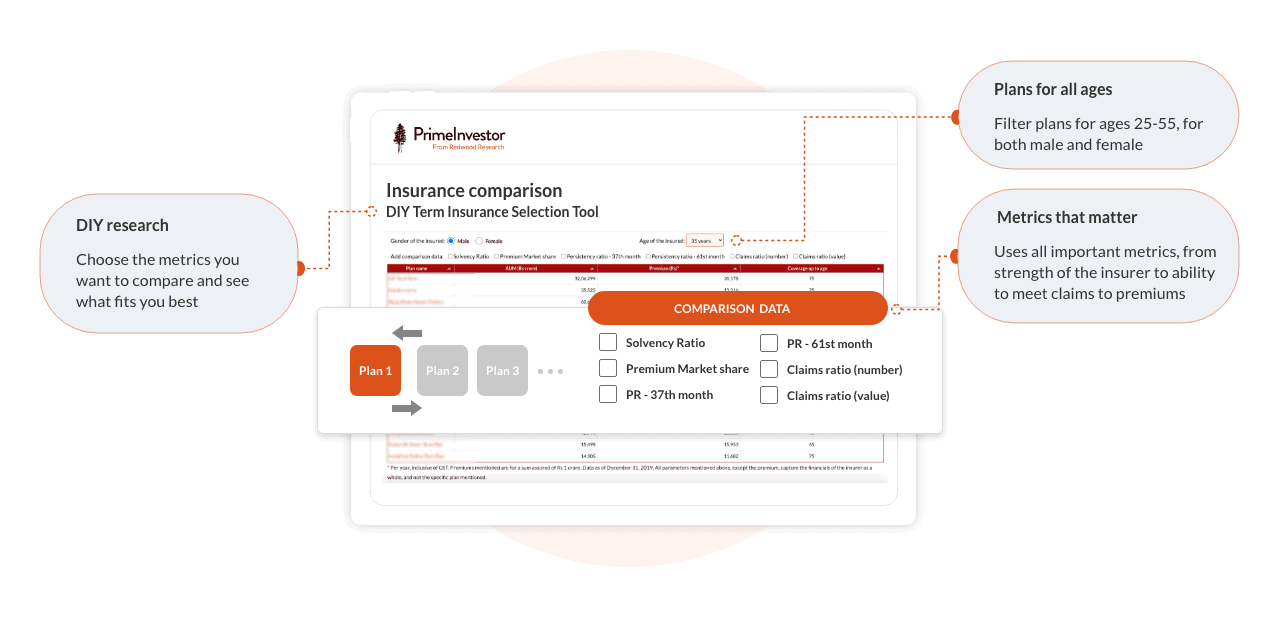 What is our DIY Term Insurance Selection Tool and how to use it
Prime DIY Term Insurance Selection Tool allows you to sort insurers based on several key parameters that we have identified for you. . We have already sifted through all insurers and selected only those that make the cut on size, vintage, and safety. In other words we have used some gating criteria to fitler down the list of funds. Let us first look at the gating criteria.
Gating criteria
We first shortlisted insurers based on their pedigree, stability and financial soundness. We used three elimination criteria to gauge these:
#1 Assets Under Management
We have used a minimum AUM of Rs 10,000 crore as the cutoff for AUM to make it to our shortlist. We took this after looking a the AUMs across life insurers in India.
#2 Solvency ratio
The Solvency Margin is the amount by which an insurer's assets exceed its policy liabilities. Assets for an insurer usually consist of its investment book and fixed assets. Policy liabilities are the present value of future claims plus its own future expenses, minus the premiums it is likely to collect. Solvency Ratio is the insurer's actual solvency margin measured against the required margin.
IRDA prescribes a minimum Solvency Ratio of 1.5 times for insurers in India. To ensure a more comfortable cushion, we applied 1.8 times as a cutoff on solvency ratio. LIC has a lower ratio, but we made an exception for it, as its policies are sovereign-guaranteed. 
#3 Vintage: We considered insurers who have successfully completed at least 10 years of operations in India.
Applying these three elimination criteria left us with 14 life insurers in our shortlist. Primeinvestor's term insurance tool covers the pure term plans of these 14 insurers. 
What are the metrics that you can use to sort plans
You can sort our filtered list of term insurance plans using the following metrics. We have compiled these metrics painstakingly from qualified data sources to ensure you get accurate yardstick to assess the plans. Let's look at them:
Assets under management: While we have already filtered out plans with lss than Rs 10,000 crore AUM, you can still sort the large players by sorting them by assets under management. This is a good metric to use to gauge the customer base and the size of the investment book. 
Premium: Buying a life policy entails making a lifelong commitment to pay premiums. It is therefore desirable that those premiums are cost-effective and competitive. While this should not be the only criteria by which you choose a plan, you can pick this, along with other criteria to sort and choose your plan. 
Coverage up to age: We also provide the age up to which the cover is available so that you can pick what fits you. 
Solvency ratio (Times):  The measure of how much cushion an insurer has in the form of assets to meet future liabilities. IRDA specifies a minimum ratio of 1.5 times. A higher ratio is better, but new and very small firms can sometimes show high solvency ratio because of the nascent stage of business. For this, we compile data from insurers' quarterly public disclosures.
Market share (%): In the insurance business the size of premium income and investment book decide the financial strength of an insurer. We used an insurers' market share in premiums for the latest financial period as a ranking metric. The market shares used relate to the insurer's share in total premiums collected for the latest fiscal year-to-date information available.
Persistency ratio (%):  Persistency ratio, which measures the proportion of customers who have stayed with their policies for a specified length of time is a good proxy for an insurers' service standards and its selling practices. We used persistency ratios at the end of 3 years and 5 years (37th month & 61st month) given the tendency of Indian insurers to see a sharp drop off in customer stickiness within 3 years. We have provided persistency ratios based on premium value from insurers' public disclosures, for the latest fiscal year to date information available.
Claims settlement ratio (%): This is the most important metric on which to gauge a life insurer. We provide you with claims settlement ratios both based on number of claims settled and value of claims settled. Given controversy about calculation of this ratio, we sourced the claims data submitted by insurers to IRDA and disclosed in the latest IRDA annual report.
How to use the DIY term insurance tool
If you are an investor who likes to do your own research on term plans before choosing one, this DIY tool can be your guide.
Use the interactive module to sort insurers based on different financial parameters such as Assets Under Management, Solvency Ratio, Persistency Ratio (37th and 61st month), Claims Ratio (Number and Value) and of course quoted premiums.
Premiums mentioned are for a sum assured of Rs 1 crore. Do note that this data pertains only to the insurers already shortlisted by Primeinvestor for their size, vintage and safety. We have given the filter criteria earlier in this article.
Use the age closest to your present age for representative premiums. When in doubt, use the higher age option.
For a comprehensive term plan ranking that is weighted and scored across metrics using our in-house research methodology, click here.
Register for a free trial today to try our unique insurance tool and to get access to our quality researched content across products.
Other insurance tools you can use