Prime Deposits
Available for subscribers only
Research-picked list of fixed deposits with the best rates. Drawn by analysing all available deposits, to pick the best combination of good interest rates and safety - those that are offered by financially sound institutions, or the government. Updated quarterly or based on interest rate movements.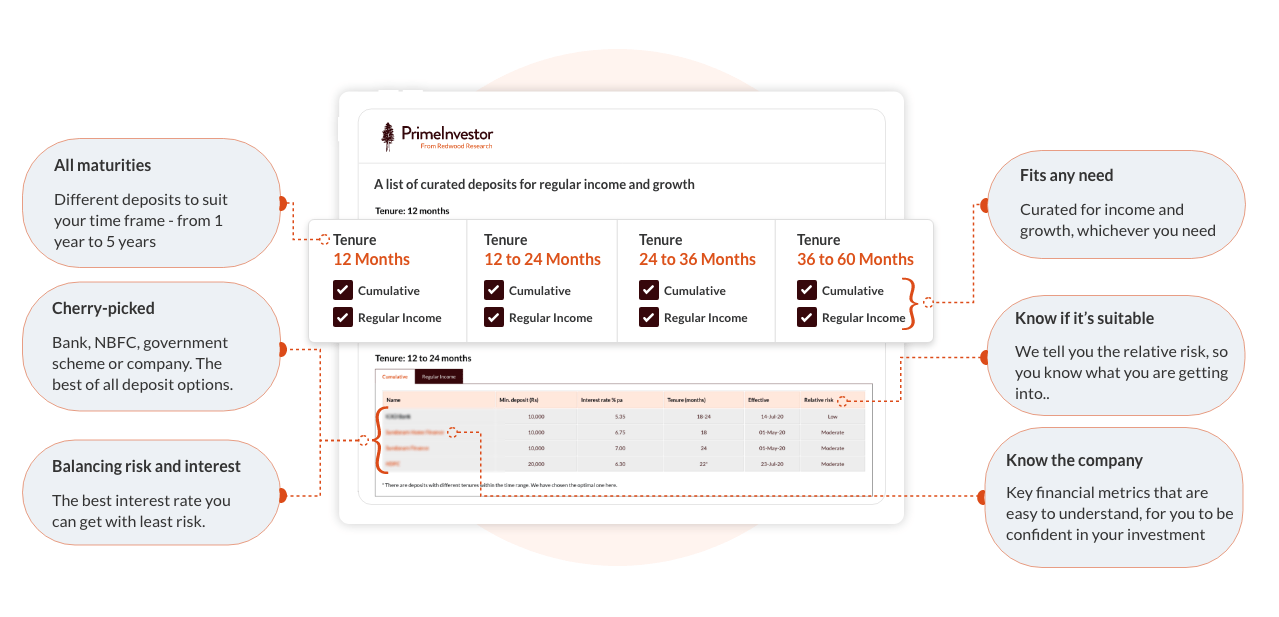 Prime Deposits – how we filter them
Whether you're looking for a regular interest pay-out or a cumulative option, whether you're looking for deposits for 12 months or 3 years or 5 years, Prime Deposits has what you need.
Prime Deposits looks at all available fixed-income options from NBFCs, banks, corporate entities and the government. High interest rates are not necessarily attractive as fixed-income, low-risk options if the deposits are issued by institutions that aren't sound.
Defaults help bring out the true risk appetite of the FD investor, who tends to have zero tolerance for capital losses. This is why our approach to curating a list of the best fixed deposits is to put safety far ahead of return considerations.
Across different options
There are several entities you can go to for fixed deposits – banks, cooperative banks, small finance banks, companies, non-banking financial companies, and government schemes. Prime Deposits picks the best from all these options, based on a range of metrics from the fixed-income scenario, interest rates, the direction of the interest rate cycle, the strength of the issuing entity, the disclosures they make, and the safety of your money. With Prime Deposits, you can be assured of the best options available in the fixed deposit space.
Safety first
In Prime Deposits, safety takes precedence as you do not need risk in these fixed-income options. Regulators have quite a few safeguards in place to ensure that only a select club of entities in India can accept public deposits. Despite elaborate and stringent rules, corporate and NBFC FDs have seen quite a few cases of delayed repayments and defaults. In the case of default by a deposit-taking entity, depositors usually have limited recourse because FDs are unsecured borrowings that rank below the secured loans taken by a company.
The safety of your FD money therefore relies mainly on the quality of management of the entity you're investing with. We look for a reputed industrial name which is in a sound financial position and has an uninterrupted track record of servicing FDs across a complete economic cycle. We look for companies that make exhaustive public disclosures on their finances.
Interest rates that are worth it
When we look for good interest rates, we see if the higher rate is worth going for. When you have very safe investments available, it doesn't make sense to skip them in favour of riskier products unless these offer sufficiently high returns.
This is why we believe that Indian investors looking for the best fixed deposit products should choose them mainly on the basis of the spreads (higher rates) they offer over the small savings schemes. If the spread isn't wide enough to justify the higher risk involved, we refrain from including them in Prime Deposits. This way, we give you the best combination of safety and higher interest rates.
Going for good governance
In Prime Deposits, you get deposits from entities that have good public disclosures and regular updates on key financial metrics. To gauge if a deposit-taking entity is facing new threats to its finances or liquidity, regular public disclosures of its finances are a must-have. Today, such high-frequency disclosures are available only from listed entities. With unlisted entities, you have no idea of how it is faring as financial results are filed after a considerable lag. This lack of disclosures makes us avoid corporate FDs from unlisted entities as well as deposits with co-operative banks completely, no matter how good their rates.
Early exits when needed
The experience with FD defaults suggests that the biggest risk that FD investors face is a sharp deterioration in the finances, liquidity position or ratings of a company after they've locked into their FD. This makes it important for FD investors to track the credit ratings and financial positions of the companies whose FDs they've invested in, throughout their investment period. They should also be prepared to pull the trigger on their deposits and exit early, irrespective of the penalties levied.
With Prime Deposits, we do our best to choose only those best fixed deposits from issuers with sound financial strength. But since unforeseen events can change the scope swiftly and sharply, we plan to keep a close watch on our recommended list of FDs. We will recommend premature exits if the risks associated with the entity are spiking up.  We have your risks covered.
Know the deposit
Actually analysing a company for its ability to honour its deposits needs you to understand many financial metrics. Knowing what company you are investing in will give you confidence. So to enable you to be aware of where your money is going and how safe the institution is, we give you the key details of the entity issuing the deposit so you are assured of its quality. Within a maturity bucket, Prime Deposits has a combination of FDs from different institutions. We explain each of these.
Not just that, we also tell you if a deposit product in our list involves a little higher risk than the others. This way, you are absolutely clear about the best fixed deposit for your needs.
Regular reviews
Prime Deposits are updated every quarter. But interest rates can change, and these changes can be frequent when there are a series of policy rate cuts or policy rate hikes. So we additionally review deposits, even in between review cycles, when there are such changes. This apart, new products could be introduced that are attractive and can find a space in your portfolio.