Get a new recommendation in your inbox every week!
No spam. Just one mail a week.
Worry-free retirement is one of the top financial goals that every person has. Hence, it is important to be sure that we are saving and investing enough during our earning years to have a safe and happy retirement. Use this calculator to figure out if you are investing enough to get you from here to there.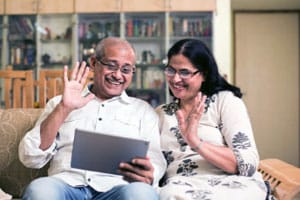 Retirement calculator
A retirement calculator is a simple tool that helps you find the amount of money you will require after you retire. This retirement planning calculator will help you build enough wealth which ensures that you are able to continue your lifestyle even after your retirement. The retirement calculator takes into account your personal details such as current monthly expenses, your current age, the age at which you wish to retire and expected life span. This will act as a guide in the meeting your retirement goal.
How to use the calculator?
The retirement calculator will help you understand how much corpus you need to create before you retire and how to plan for it. The retirement calculator is split into two stages, and following are the inputs required:
Inputs at stage 1 of retirement calculator
Current monthly expenses: The expenses that you incur every month. Here, exclude expenses that you are unlikely to have post retirement such as servicing home loan or rent if you will not have such expense. Add a component for medical expenses, if you do not have it currently.
Current age: Your age now
Retirement age: The age at which you want to retire
Expected Life span: Age until which you expect to live or till which you expect your retirement corpus to last. Be more conservative in this estimate and go for a longer lifespan to reduce the chances of you outliving your corpus.
Inputs at stage 2 of retirement calculator
Current value of existing investments: The current market value of investments you have made so far which you have marked for retirement. Do not include investments meant for other goals such as your children's education.
Expected Inflation: The rate at which general prices of goods and services are expected to increase every year. You can use average inflation rates for the same.
Post-retirement investment return: The returns you expect from your investments that you make in your post-retirement portfolio. Bear in mind that your post-retirement portfolio will be dominated by debt-based fixed-income investments and not equity.
Pre-retirement investment return: The returns you expect from your investments that you are using to build the retirement corpus.
Output of the retirement calculator
Period for which the income is needed: It is the difference between the retirement age and expected life span.
Monthly expense at the time of retirement: How much your monthly expense will be post retirement, based on the inflation and current expenses you entered.
Total Corpus needed for retirement: The amount of money needed to fund your lifestyle from the time of retirement for your expected life span
Future value of current investments: The market value, at retirement age, of the investments you have made so far that are pegged for retirement corpus
Corpus required to be built: The difference between the total corpus needed for retirement and future value of your investment made so far. It tells you how much more investment has to be made for retirement.
Number of years left to build corpus: The difference between your current age and your retirement age – or how many years you have to invest to build your corpus.
Monthly investment needed (Rs): Monthly investment required to reach the retirement corpus.
How does the retirement calculator help?
Retirement calculator comes in handy to estimate how much you need to live comfortably once you retire.
The retirement calculator takes into account both inflation during your working years and your retirement years. It also takes into account how much your retirement corpus will generate, so that you do not find yourself running out of money during the later years.
It helps you plan finances better, to check how far away from your goal you are. It helps you plan your working life better as well, ensuring that you are well-placed to live your retired life in peace.
The retirement calculator allows you to choose the right mutual fund schemes as you know how much you have to save and gives you the time-frame as well.
It helps you know how much money you have to save every month. Even if this sum is large, it gives you perspective on what you need to achieve. You can start small and slowly increase it later when your income allows.
Importance and benefit of starting early to save for retirement
Retirement planning is important because it can help you avoid running out of money in retirement. Starting out with even small sums early allows the power of compounding to build up into a sizeable amount. The planning can help you calculate the rate of return, how much risk you can take and how much corpus is to be built.
When you start saving for retirement in your 20s you fairly have less responsibilities and be able to contribute more. You will be able to get a head start on building your retirement corpus which gives you more flexibility later in life to reduce retirement contribution in favour of other goals.
The feature of power of compounding will be more advantageous if you start investing early. For instance, let's compare saving Rs 1,000 at age 40 versus age 30 with a hypothetical 5% compound annual return to age 65. The 30-year-old saver ends up with over 60% more money simply because she saved 10 years earlier. That is, the 30 year old is able to accumulate Rs 5516 on the Rs 1,000 invested while the 40 year old will  accumulate  Rs 3,386. And this is for just a single SIP instalment of Rs 1,000!
When you start investing from a very young age you will end up saving more than just adequate fund and will be able to build a bigger buffer.
Saving early will instil financial discipline from a young age.
Role of inflation in retirement planning
Inflation is a retirement killer as it diminishes retirees' buying power. Reducing spending, creating a realistic retirement budget, and building up good investments will help soften the blow of inflation.
It is important to consider inflation as it reduces the value of money. Using current prices to guess at how much retirement money is needed will leave you woefully short of what you actually need. For example, a current monthly expense of Rs 50,000 will amount to Rs 160,000 in 20 years, and Rs 5.14 lakh in 40 years assuming an annual inflation rate of 6%.
Therefore, using a retirement calculator will help you gauge the effects of inflation in order to work out how much money you will need at the time of retirement.
How to invest for retirement
At PrimeInvestor, we have specially designed and provided a list of portfolios (Prime Portfolios) that you can use to invest towards your retirement. You can go by the timeframe-based portfolios and pick the portfolio that most closely matches your own time-frame. Alternatively, you can use the aspiration-based portfolios. In addition, we have portfolios designed to help you set up a monthly cash flow after you retire. So from saving towards your retirement to setting up post-retirement cash flow, our readymade portfolios have you covered. You can 'Follow' a portfolio to be alerted of changes we may make from time to time.
If you do not wish to use the readymade portfolios, you can build your own using our Prime Funds list, which is our recommended mutual fund list across mutual fund categories. Prime Funds is bucketed in a system that uses your risk level and time-frame which makes it easy for you to pick the funds that best suit you. Each Prime Fund is unique and this allows you to build a diversified portfolio with minimal effort.
Disclaimer:
Results shown for illustrative purpose only and should not be construed as investment advice.