Inconsistent performance among funds in this category makes it hard to pick a quality one
Increasing credit calls by these funds changes the risk-return profile
Better returns for the same to lower risk possible through other newer categories
For long, conservative hybrid funds (predominantly consisting of the erstwhile Monthly Income Plans or MIP schemes) were sold as options that would provide regular income through dividend. In 2013, when dividend distribution tax was made uniform across debt funds, the dividend lure took a hit. In Budget 2014, when the definition of long term, for capital gain purpose, became 3 years from 1 year, MIP lost further sheen.
Finally, it moved to be a category to earn better-than-debt returns without the risk of pure equity. The equity and debt blend also helped introduce either equity or debt into a portfolio. While this last proposition appears well-grounded compared with earlier reasons for which they were sold, we don't recommend investments in funds from this category. Three reasons:
Inconsistency. Performance of hybrid conservative funds is increasingly fluctuating, with few funds able to steadily deliver above-average returns.
Risks.Hybrid conservative funds are not free of credit risk, and this makes them unsuitable for short holding timeframes.
Performance. Newer categories such as balanced advantage and equity savings have characteristics similar to hybrid conservative funds and are able to better achieve the objectives of the latter.
Changing performance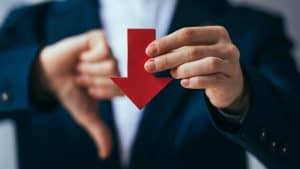 Consistency measures how steady a fund is, in delivering returns. Consistency is typically backed by a clear strategy that enables it to perform across market cycles. Understanding this at the time of investing in the fund is vital because you need to know if it can continue to perform the way it has. A fund that does well in some phases and poorly in others increases uncertainty about its performance going forward.
On this count, conservative hybrid funds slip. Of the 16 funds in the category (ignoring funds that saw big debt write-offs to avoid skewing the figures), just 5 were able to beat the category average more than 60% of the time when looking at 2 year returns since 2015. On a 1-year and 3-year return basis in the same period, just 4 and 6 funds respectively, were able to consistently beat peers.
Franklin India Hybrid Debt, for example, saw 2-year returns hold above other funds for most 2019 and 2018, but floundered in 2017 having delivered in 2016. BNP Paribas Conservative Hybrid has a similar patchy history, while current high return generator Baroda Conservative Hybrid has only just begun to perform better than peers.
Other funds that were strong performers earlier lost heavily. Aditya Birla Sun Life Regular Savings, for example, used an aggressive equity strategy of holding about 30% in equity to beat peers by a large margin. With exposure now mandated at a 25% maximum, the fund's returns slipped. SBI Debt Hybrid similarly used an aggressive duration strategy to power ahead, but failed to maintain the pace once duration finished playing out.
Part of the inconsistency stems from funds' frequent change in strategy in a bid to maximise debt returns at all times and as the profile of the category in an investor's portfolio kept changing. This saw funds move into duration when opportunities looked promising, but were unable to either time the strategy right or failed to book out of it on time. Or, funds followed accrual but frequently changed portfolio maturities between short and long term papers based on rate cycles. Such a strategy uncertainty does not bode well for steady performance.
HDFC Hybrid Debt, for example, relied heavily on duration from 2015 to 2017. It was premature in this strategy in 2015 which hurt returns; it eventually paid off in 2016. But continued betting on duration in 2017 sent returns back lower and a switch to accrual from there hasn't yet helped the fund pull back above averages consistently. The fund did not participate much in 2019's gilt rally. Nippon India Hybrid Bond, similarly, got duration calls wrong and then morphed into a credit risk portfolio.
Credit risks creeping up
Credit risk is the one factor often masked in conservative hybrid funds. Earlier, funds played it safe by relying on AAA funds alone while the risk came from the equity exposure. Now, however, risks come both from equity and credit calls.
As a proportion of the overall AUM, exposure to debt rated AA and below has gradually moved higher to 27% now. Up until mid-2018, the credit exposure was less than 20% of the total. Of course, erosion in AUM is a contributing factor to the rise in overall credit risk proportion. But breaking this down into individual funds also shows the same trend.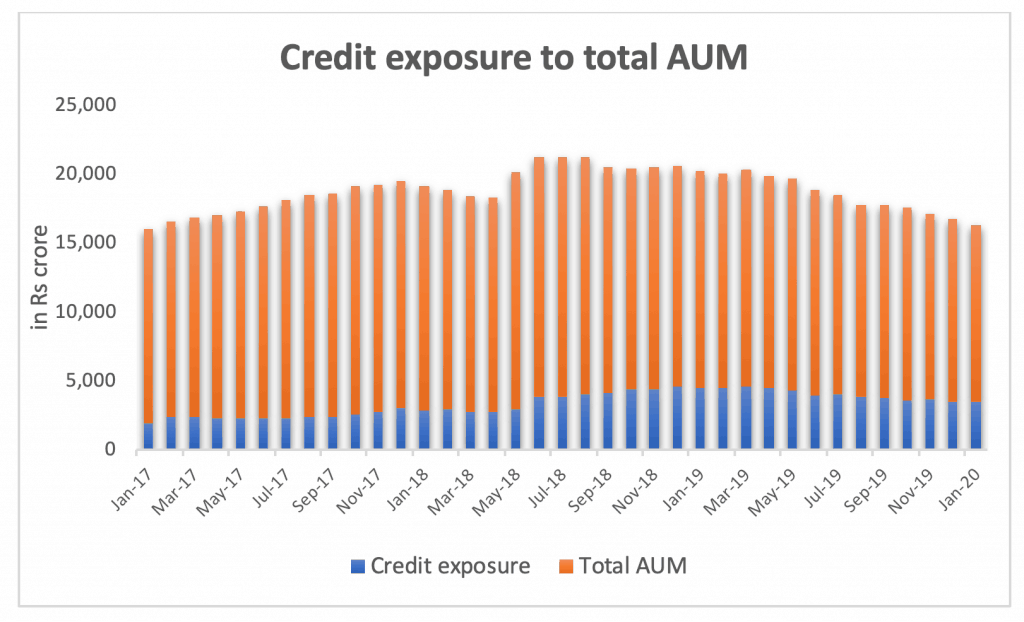 Half the funds in the category held at least 15% on an average in lower-rated papers over the past two years. A third held an average of 20% in such papers. For example, ICICI Prudential Regular Savings has held between 40-50% of its portfolio in AA and below papers for over a year now. This dampens its long-term consistent performance record. Nippon India Hybrid Bond had a whopping 60%-plus in low-rated papers, in line with a credit risk fund.
Credit calls on the debt side aren't wrong and they do hold potential for higher returns. However, credit risk needs a long timeframe in order to absorb any potential losses which conservative hybrid funds don't normally call for. The debt events of the past year have resulted in write-offs in several funds, on their DHFL exposure, on Anil Ambani group, IL&FS group, and Sintex exposures. Axis Regular Saver, for example, held about 7.3% of its portfolio in DHFL papers. Its 1-year return dropped from 5.3% to a loss post June 2019.
These hybrid funds additionally are meant to suit conservative risk profiles, given that it provides debt-plus returns without the risk of equity. Taking on credit risks renders unsuitable for their basic purpose. Besides, if you were to take on credit risks, a pure credit risk fund would serve better and deliver higher returns as well.
Better performers
In the past 5 years, newer categories such as equity savings and balanced advantage funds (does not include dynamic asset allocation) have fitted themselves better to achieve the objective that hybrid conservative fund set out to do. These funds use pure equity, debt, and derivatives to bring in a low-risk fund with debt-plus returns. These funds have the additional advantage of being equity-oriented from a tax angle.
Given that the categories are new and that funds have changed allocations post new categorisation, there are only a handful funds that have followed an investment style of combining equity, debt, and derivatives and can be compared. Returns for these funds, on an average, beat conservative hybrid funds considering the period from 2014 onwards. 1-year returns over this period saw equity savings/ balanced advantage average beat conservative hybrid category 64% of the time. The ability to deliver returns improves as the timeframe stretches to 2 and 3 years.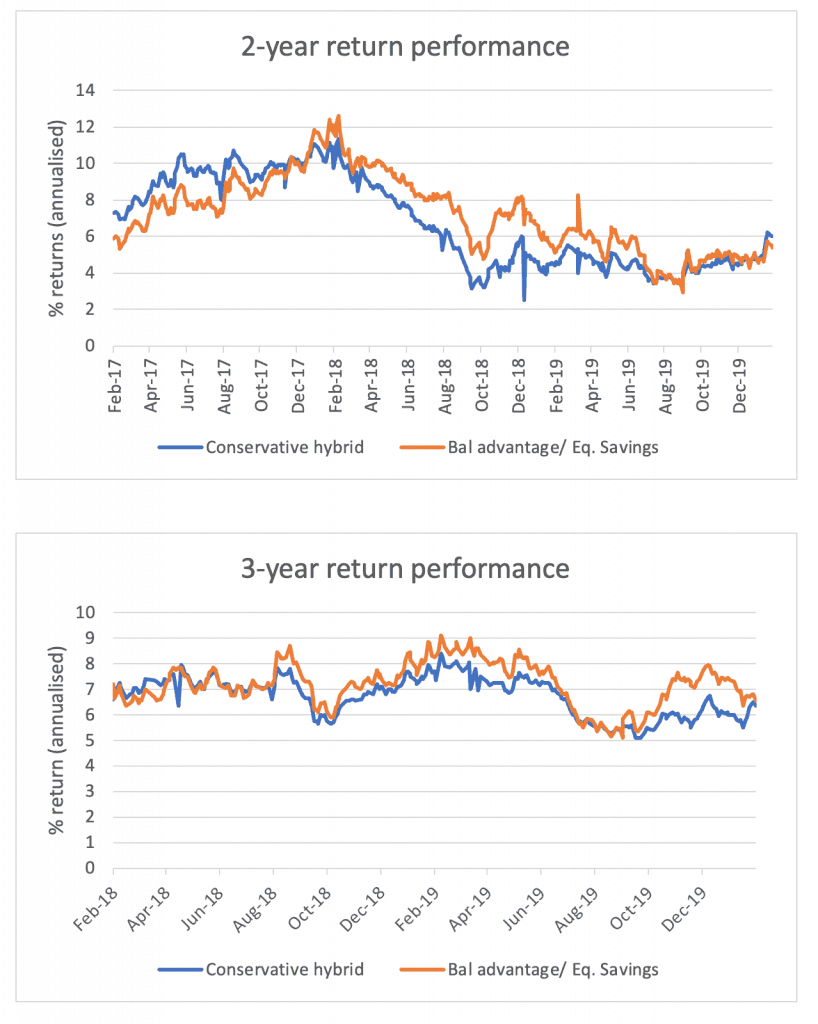 A higher open equity exposure is one key factor that pushes returns for these funds. Apart from a few, these funds tend to have 30-40% in open equity. However, on the risk front these funds do not fall behind conservative hybrid funds thanks to the low volatility and safety of the derivative and accrual-based debt strategy. This apart, being equity-oriented funds, they are taxed at lower rates than conservative hybrid funds for those outside the 5% tax brackets.
On metrics that measure risk and return – volatility, downside containment, Sharpe ratio (measures risk adjusted returns), and Sortino ratio (measures downside volatility) – equity savings/ balanced advantage funds score better than most conservative hybrid funds.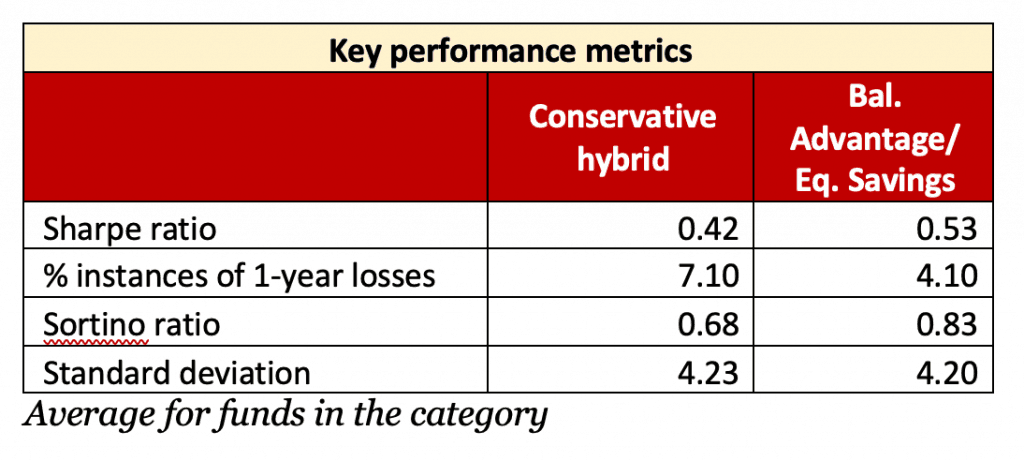 What it means for you
The conservative hybrid category losing potential has these takeaways for you:
It is far more efficient to build your portfolio using pure debt and pure equity funds. Substituting an underperforming fund is easier with pure debt or equity funds. Conservative hybrid funds have limited choices and would require you to re-allocate among your other funds as it feeds into both equity and debt components of your portfolio.
If you have a timeframe of 1.5 to 3 years, use funds in categories such as equity savings and balanced advantage if you wish for marginally higher returns than pure debt funds (Hybrid – Low Risk in Prime Funds) and want tax efficiency. Else, you can stick to pure debt funds that fit your timeframe.
If you already hold conservative hybrid funds, use our review tool to assess their performance. Else, consider moving to pure debt or pure equity funds depending on your timeframe.
Also Read : A Low Risk mutual fund option for the conservative equity investor