Prime Funds - Best mutual funds to invest in
Available for subscribers only
A research-backed list of best mutual funds to invest in - drawn up by looking at 700-1500 return periods, risk-return metrics, loss probabilities, fund strategies, markets & more. Updated every quarter.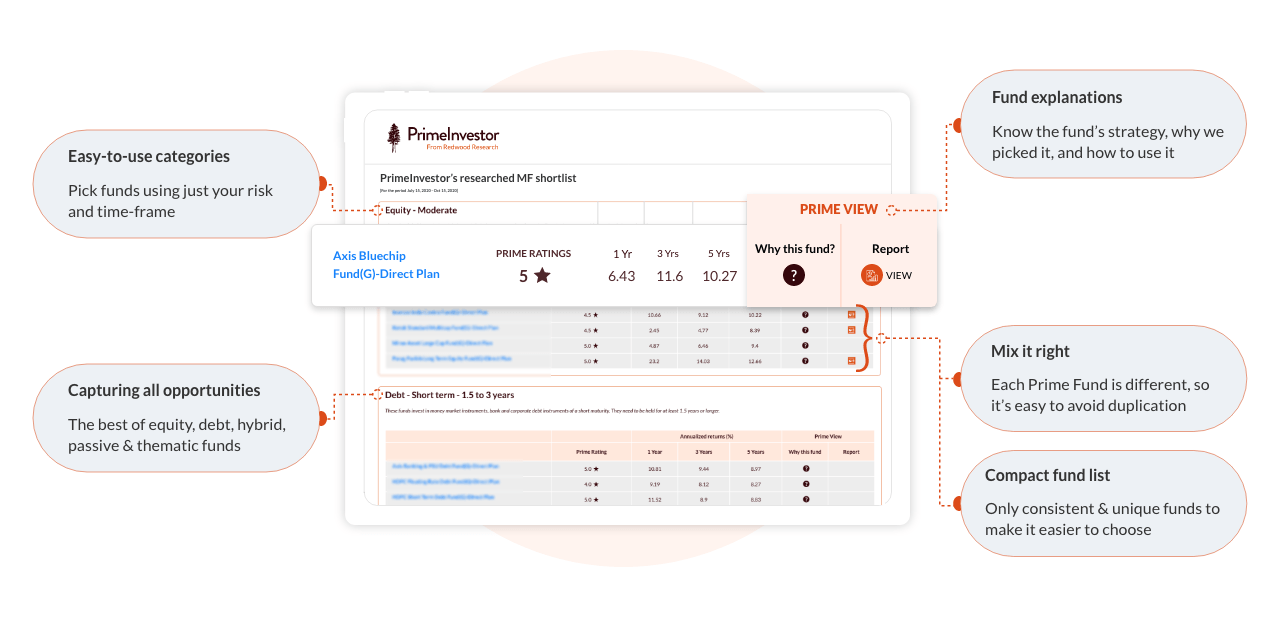 Prime Funds – why it's unique
With Prime Funds, you can build a great portfolio that has the best mutual funds, with ease. Prime Funds has features that lets you combine the right funds to give you a portfolio that has no duplications.
Prime Funds uses comprehensive quantitative metrics to shortlist funds and applies various qualitative factors to gauge strategy, reliability and performance to pick the best mutual funds.
You don't need to be a financial whiz to create and maintain a portfolio that works – you just need a few good, consistent, funds of different types. That's what Prime Funds gives you.
Get the right portfolio mix
A portfolio needs a mix of different investment styles and strategies, so that when one underperforms there's another to take up the slack. Each Prime Fund is different from the others in its set. Prime Funds features funds that are steady performers across market cycles. It could feature funds that are turning around – they could be recovering from a slump, they could have seen a fund manager change, they could be following a contrarian strategy. There are funds that could be new. So any fund you pick from the Prime Funds list will deliver for you in a different way. No duplications!
Categories that are easy to use
Forget the jargon of large-cap, large-and-mid cap, medium duration, short duration and all that. It's easy to over-crowd your portfolio by trying to include every category there is. More, with the current category definitions, there are overlaps in fund categories. For Prime Funds, we look into the role each fund can play in your portfolio. We then bucket funds in categories that you can relate to, understand easily, and therefore use correctly. Each Prime Funds set pulls in funds from different SEBI defined categories. And each set contains a range of funds with different risk levels and strategy so you will always find the best mutual fund for you.
All you need to know is your risk and time-frame. In equity funds and hybrid funds, Prime Funds sets are classified based on risk level involved and investment style. Debt funds are classified on the minimum timeframe you should have. No rocket science, here!
Concise fund list
We drill down from the hundreds of funds to give you a concise fund list that makes it easy for you to choose. Prime Funds features only quality funds. We pick strategies that are clear, sustainable, and have the potential to deliver. When a fund's strategy is understandable and clear, it provides comfort that it will continue to deliver across market cycles. An above-average performance with a steady strategy is preferable to a chart-topper with a muddled/high-churn portfolio.
We look consistency in returns. Flashy performers, or funds that do well in one cycle and not the other will simply wipe out gains and require you to start all over again. We pick steady performers which you can comfortably invest in. We look at consistency across different periods to ensure that we're not being swayed by recent performance nor considering irrelevant very long-term performance. No confusion. Just a few, good funds.
Fund explanations
How will you know what strategy a fund follows? What is it about the fund that makes it a good one? How can you use it in your portfolio? Every Prime Fund comes with an explanation of its strategy, why we picked it, and how to combine it in a portfolio. We also do detailed reports on Prime Funds. You don't need to do the homework. We explain it all to you.
Covering equity, debt, and hybrid
Prime Funds covers all opportunities there are, whether its equity, debt, hybrid, thematic, and even international. We don't pick a fund from every category. We look for those that make worthy investments. We track funds closely to ensure that we snap up opportunities as and when they come in.
We track market scenarios, because in both debt and equity, how markets can play out can make some funds more or less attractive. For example, if we're in a flat or upward rate cycle, we could include more accrual funds. On the equity side, we may bring in more value-based funds or more aggressive funds when those segments have the potential to trend higher. This allows you to capture specific opportunities as they come up, as big gains even over a short period can pep up your overall portfolio returns. You're assured of the best, always.
Risk and return balanced
The inherent risk in a fund is important especially in debt funds. Most debt categories are silent on the level of credit risk a fund can take. This often results in a variety of risk levels within the same category. Where risk is involved, we look at all these factors, the timeframe involved, the ability of the AMC to manage risks, the size of the fund and much more. In equity, funds can have a high mid-cap or small-cap exposure while belonging to a completely different category. We look at returns a fund generates from the risk perspective too, to ensure that funds are not compromising on the risk front to drive returns.
Going beyond ratings
A fund's rating does not tell you the whole story about a fund. One, going for only the 5-star funds won't help you build a portfolio that combines different investment styles or market segments. Two, numbers and returns can mask actual risk involved in some categories, which come to light only when the risk materialises. You may additionally leave out up-and-coming funds. In Prime Funds, we go beyond what numbers show.
We blend exhaustive quantitative metrics and qualitative factors to come up with a list of the best mutual funds for Prime Funds. Prime Ratings, our exhaustive in-house fund rating system, serves as a strong base. And we don't take just the 5-star funds in each category to decide the Prime Funds list. We then add qualitative factors to pick the best funds among the shortlisted funds. This includes looking at fund strategies, portfolios, fund manager changes, overlaps with index and with other funds, market conditions, potential, and so on. Blending quantitative and qualitative metrics, thus, gets us to a list of funds that have been good performers and can continue to be so.
Regular reviews
Prime Funds are updated every quarter. If there are changes, we keep you informed. We tell you what to do with your investments in the funds or when to go for the new funds we've added.
Overall, there are 4 layers of researched products we offer as far as mutual funds (which is just one of our offerings) go:
Subscribe today to benefit from our researched products and our  all-encompassing research and actionable insights.